SAFSPEC LUBRICATION SERVICES
Meeting customer expectations has always been the focus of our quality management and the basis for exceptional customer service. To ensure customer satisfaction, we place great emphasis on well documented, consistent and regular communication.
To us service translates into providing practical advice, excellent maintenance management systems and customised solutions.
We pride ourselves in expert installation and proactive on-site maintenance specific to the needs of each customer. Our services comprise the following:
An initial site survey to determine the product and lubrication requirements for optimal use and cost savings;
A detailed quotation and supporting survey report is provided once the above survey has been completed and discussed, in its appropriate detail, with the customer.
Product installation, if required by the customer.  Training is provided to customers that may want to do their own installations;
Monthly inspections to ensure product functionality and performance.  Inspection Audits are done by skilled support service personnel to ensure quality control;
Management reporting to ensure consistent and efficient maintenance and effective product usage.  This is done by trained technical support staff using mobile cellular performance data management tools.  Performance assessment and fault analysis data is captured on a mobile cellular tool which is then directly linked to the management reporting tool; and proactive replenishment of stock (as approved on request) to ensure consistent lubrication solutions and minimised down time.
Proactive replenishment of stock is provided on request to ensure consistent and effective lubrication and minimised down time providing an optimal end-to-end lubrication solution.
SLIC Management System App
The Safspec SLIC cloud-based management system, tracks and stores information obtained from lubricators and on-site inspectors. The extensive Business Intelligence capability of the SLIC system allows Engineers to track anomalies and tendencies over time in order to take corrective actions well before any failures might occur. This application works with any Android Smart Phone with internet connection.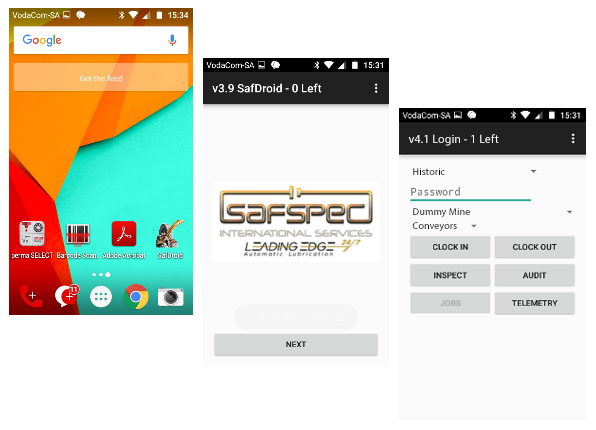 Software Functions:
Global access
Secure data transfer
Easy to use
Automatic reminders
Auto backup
Data export function
Adds/saves individual application pictures and remarks
Data exchange with other users