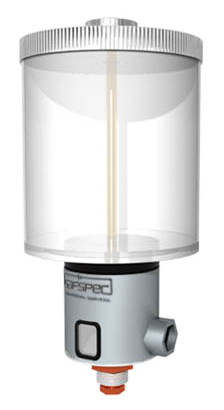 The Oil Leveller basically consist of two communicating oil reservoirs, one on top of the other. The lower reservoir is in direct contact with the application and hence its oil level is the same as the oil level inside the application. Through a ventilation tube the lower reservoir is in direct contact with the ambient air.
The Oil Levelers are designed for automatic adjustment of the optimal oil lubrication level within a bearing housing, gear box, crankcase or similar oil bath application. They solve the problem of adjusting the correct oil level during running conditions rather than during stand-still. They will automatically compensate for oil leakage and offer the possibility for visual inspection of the oil level. The oil leveller will not compensate if the oil level is too high.
Right Time and Volume: Oil topped up only when needed.
Zero Loss: Eliminates equipment wear and failure due to low or improper oil supply.
Once Only: No ongoing adjustments after installation.
Timely: Provides constant and accurate Oil Level Monitoring.
Safety: Simplifies "Preventative Maintenance" inspections.
Reliable: Utilises only gravity and atmospheric pressure.
Cheap to Run: No electric or battery power required.
Simple: No further manual adjustments required once installed.
Fast: Rapid inspection for contamination by Oil/Water/Impurities.
Item

TOM 1000 and TOM 500

Dimensions

290mm x 122mm
290mm x 91mm

Base

High-impact Polycarbonate

Other Components

Aluminium, Bronze, Stainless steel

Temperature

-20°C – 125°C

Volume

1000ml and 500ml

Permissible Humidity

0-100%

Connection Thread

G ½

Suitable Oil Types

Mineral and Synthetic Oils