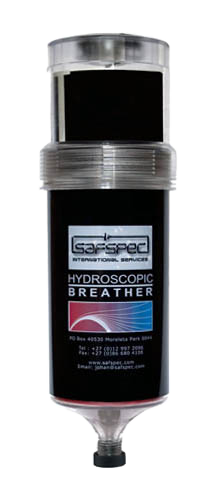 SAFSPEC SILICA GEL BREATHER
This unit can be used and installed on oil filled pump assemblies, transformers and gearboxes to remove dust particles and moisture from the air as the component heats up and cools down. They provide the optimal industry solution to contamination control. The air is filtered at the source of contamination in the filter/breather cap. The air filter and water vapour removal system prohibits entry of contaminants by replacing the standard breather or vent cap on hydraulic reservoirs, gearboxes and storage or process tanks.
Safspec Silica Gel Breather proactively prevents ingression of water and particulate contamination through the breather vent by combining the use of two well-known technologies filtration and silica (drying media). The 1-micron filter element prevents particulate entry and the silica creates relative humidity levels in the headspace which make condensation unlikely.
Non-Aqueous Chemical Process
Storage/Handing Tanks
Diesel Fuel Storage Tanks
Mobile Earth Moving Equipment
Agricultural Equipment
Vacuum and Welding Chambers
These units can be used in any reservoir, tank, cabinet or piece of equipment that breaths in and expels air and where water or dirt in that air would be detrimental to the contents or operation.
Suggested applications include:
Gearboxes
Hydraulic Systems – All Types
Bearing Circulation Systems
Robotic Hydraulic Equipment
Transformers with Oil Cooled
The Breathers aim to ensure maximum machine performance. The benefits provided in saving the customer money and minimising downtime is due to:
Extended component life due to less abrasive particles, and
Extended lubricant life due to the elimination of water-contaminated oil, rust forming condensation and sludge deposits
Can be used in EX proof areas
| | |
| --- | --- |
| Filter Media | 1 Micon |
| Silica Gel | Blue |
| Label | UV Protection, Water Resistant and Heat Protected |
| Length | 210mm |
| Diameter | 65mm |
| O-Ring Material | NBR – 70 Shore |
| Container Material | Poly Carbonate |
| Internal Components | Plastic or stainless steel to prevent rusting |
| Flow Resistance and Sodium Chloride Penetration | Tested 12% more effective in removing dust particles from the air – tested by PROTECHNIK Laboratories. Part No: 11015 |